Siroua Peak and Valleys – 8 Days
Mount

Siroua Peak and valleys

Anti Atlas Treks – 8 Days
Mount Siroua peak and valleys Lying between the High Atlas and the Anti Atlas mountains. The extinct volcano of Jebel Sirwa peak is the high point of a rarely visited mountainous area that boasts some of Morocco's finest trekking. Home to the Ait Ouaouzguit Berbers. Famed for their hand-woven rugs. This region has a distinctive landscape of high ridges and deep valleys, with flower-filled pastures. Superb dry-stone villages and terraced fields of barley and saffron.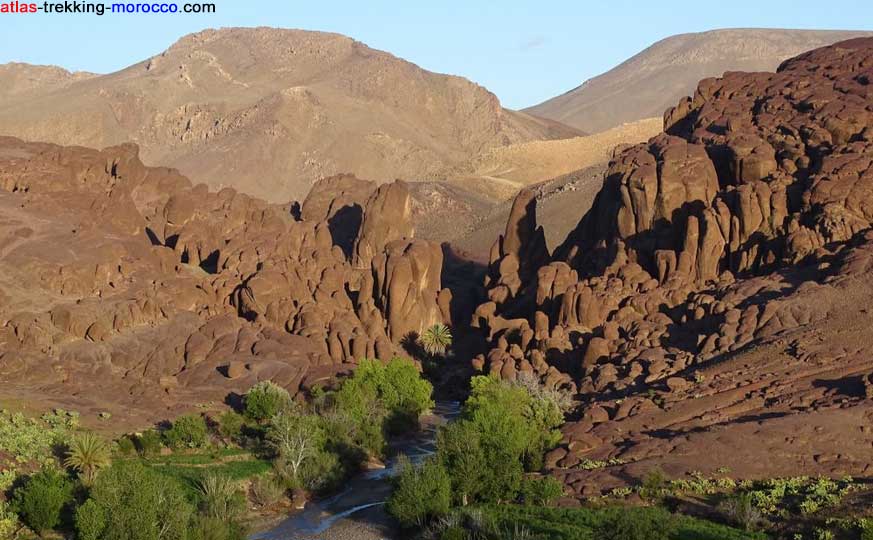 Starting out on the south side of the range. This winter sunshine trekking holiday walks via Tislit and Aghbalou Tizgui to the summit of Guilliz (2900m). Then down to a camp close to the summer shepherd's encampment at Azib Tagrara. Continuing amongst splendid rock formations. The holiday culminates in a trekking ascent of jebel Siroua (3305m). Where the views include many of the High Atlas peaks. A get a way from it all holiday with six days of varied walking in a spectacular corner of Morocco, where the Berber way of life has changed little for centuries.
Sirwa Peak or Siroua Highlights:
A winter sunshine trekking holiday off the beaten track in Morocco

Spectacular summit panoramas from Guiliz Peak and Jebel Sirwa

Trek across the Tizi-n-Test and the Tizi-n-Tichka

Step back in time by hiking through charming Berber villages

Taste delicious local cuisine.

A superb adventurous trekking and exotic Marrakech.
Siroua Peak and Valleys at a Glance:
Day 1:

    Fly  to  Marrakech  
Day 2:

     Marrakech –  Tizi n Test  –  Tislit (1500m)
Day 3:

    Tislit  –  Ait Oubyal   –  Tizgui
Day 4:

   Tizgui  –   Guiliz peak (2900m)  –  Tagragra
Day 5:

   Tagragra  –  Sirwa Summit (3305m)  –  Tissouitine
Day 6:

   Tissouitine  –   Ighmour Valley  –  Tomahakout
Day 7:

   Tomahakout  – Tamazight   –  Marrakech
Day 8:

   Marrakech Airport
Trips you might also like: