Morocco Biking Tour – 8 Days
Morocco Biking Tours, Bike Holiday Across Central High Atlas Mountains  – 8 Days
Fabulous Morocco Biking tour and mountain bike holiday through the central peaks of the Mgoun Massif and the Ait Bouguemez Valley.  Cycle across high Atlas Mountain passes into the heart of a region that has long been culturally separated from the rest of Morocco. These mountains are the home of the Berber tribes. Local people whose history and heritage predate the Arab invasion of the 7th century.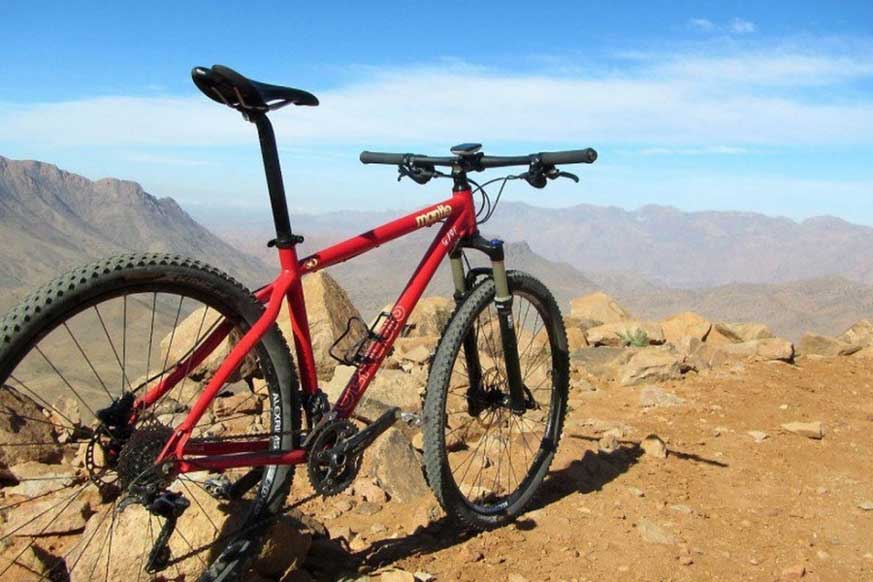 Beginning amidst the captivating chaos of Marrakech, then head out to start our Morocco biking tour. Crossing the Tizi n'Tirghist Pass and exploring the hidden Shangri-La  Ait Bouguemez Valley.  Averaging some 5-6 hours mountain bike a day. Consequently You will explore a spectacularly beautiful landscapes. Spending the evenings camping amongst the mountains. Sharing unique experiences with local families in traditional village Auberges.
Morocco Biking Tour Highlights:
Explore the exotic Marrakech, Imi n Ifri natural bridge and Ouzoud Waterfalls.

High altitude bike ride through the dramatic Atlas Mountains.

Cycle over 200 kms of mountain passes, berber villages and impressive peaks.

Combine off-road cycling adventure with a unique culturalexperience.

Camps amongst the mountains or in a local and traditional Auberges.

Experience the friendliness and hospitality of the Berber people.

bike through Charming and starkly beautiful Bouguemez `Happy` Valley.
Morocco Biking Tours at a Glance:
Day 1

:

          Fly  to  Marrakech  

Day 2

:

          Marrakech  –   Demnate  –  Imi n Ifri  – Tilsekht (1565m).
2 hrs drive  /  4 hrs – 21 km cycling  /  Ascent – 760m  / Descent – 270m  /  Meals: B, L, D  /  overnight camp
Day 3:          Tilsekht (1565m) –  Sidi Boulkhalf   –  Tarbat n Tirsal  – Tizi n Tirghist (2626m).
7 hrs – 30 km cycling /  Ascent – 1350m  /  Descent – 600m  /   Meals: B, L, D   /   overnight camp
Day 4:         Tizi n Tirghist (2626m)  –  Abachkou  –  Ait Boulli  –  Ait Bouguemez (1850m)
7 hrs – 45 km cycling  /   Ascent – 830m  /  Descent – 1300m  /  Meals: B, L, D  /  overnight local Gite (guesthouse)
Day 5:        Ait Bouguemez (1850m)  –  Tizi n Tirghist  – Tizi n Ilissi (2530m)  –  Zaouit Ahanssal (1650m)
8 hrs – 68 km cycling /  Ascent – 1260m  /  Descent – 1500m  /  Meals: B, L, D  /  overnight local Gite (guesthouse)
Day 6:       Zaouit Ahanssal (1650m)  –  La Cathedrale (1150m)
7 hrs – 47 km cycling  /  Ascent – 800m  /  Descent – 1100m  /  Meals: B, L, D  /  overnight local Gite (guesthouse)
Day 7:       La Cathedrale  –  Bin el Ouidane Lake  –  Ouzoud Waterfalls   –  Marrakech  
5 hrs drive  /  1 hrs walk  /  Meals: B, L  /   Hotel or Riad
Day 8

: 

    The end of the Atlas Biking holiday adventure 
Day bike Tours Morocco You Might also Like: