Morocco Twin Peaks Trek Toubkal and Mgoun – 14 Days
 Morocco Twin Peaks Trek /  Mgoun Summit (4071m) & Mt Toubkal (4167m) – 14 Days
A new and challenging Morocco twin peaks trek adventure up to the highest peaks of the Atlas Mountains. Trekking to explore two different parts of the Atlas Mountains for a lovely couple of days walking. Our special trek route takes us from Marrakech up to the heart and the less visited central part of the High Atlas Mountains. Where we will meet with our local team.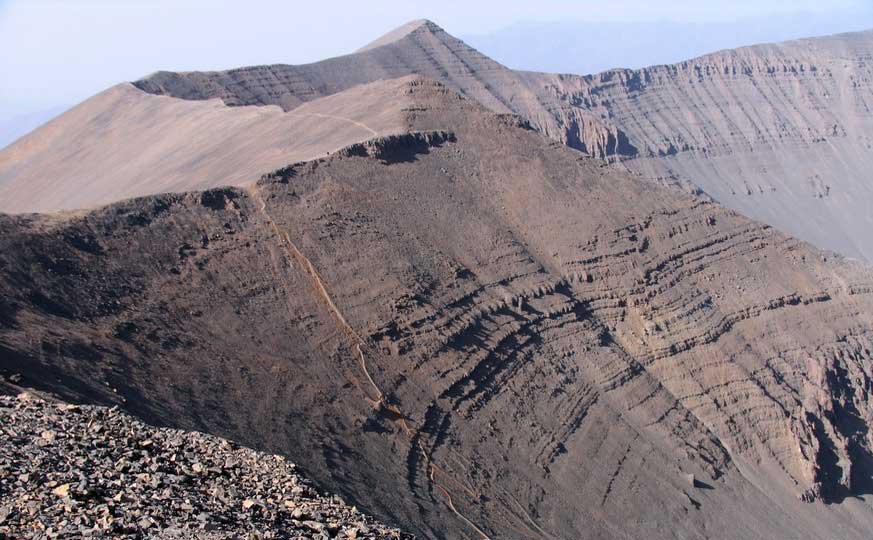 Then start our hike exploring the irrigated farmland of the Bouguemez Valley, nicknamed the happy valley. Which has managed to preserve a traditional way of life that closely follows the seasons and is based on agriculture and the herding of livestock.
During our walks, we experience the friendliness and hospitality of the Berber people, camp on high pastures used by nomadic shepherds and makes the tough trek to the top of Mgoun the second highest peak in Morocco. Here, the fabulous 360 degree panorama includes range upon range of the High Atlas Mountains and the endless desert expanse to the south.
After discovering the happy valley of ait bouguemez we will drive to continue our second part of the trek. Different views and landscapes but same mountain range of the atlas.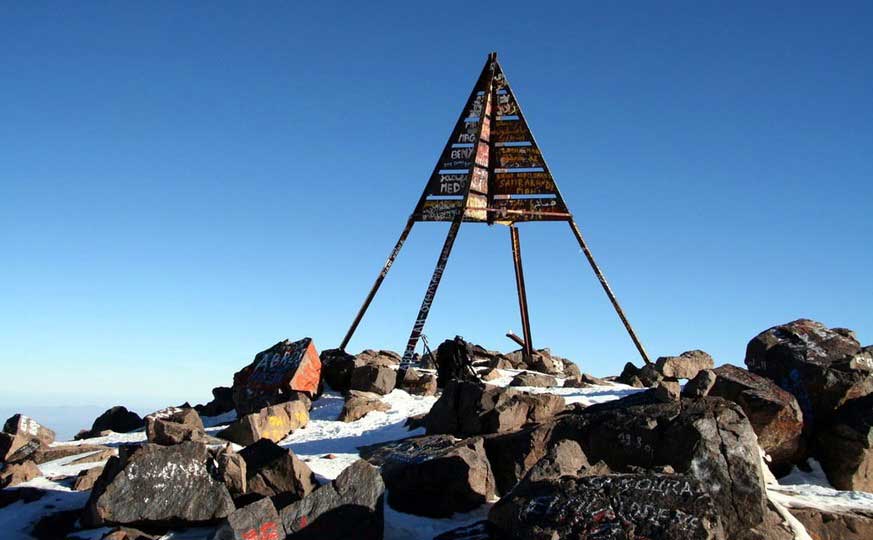 After meeting with our second local team we will start our hiking amidst cool vegetation with juniper, oak and pine trees for perfect shade breaks. Our trek will take us across deep gorges, gushing river streams and groves of cherry and walnut trees. You will be in the capable hands of your guide who will be willing to explain the culture and history behind areas you find yourself upon. Then we will enjoy our panoramic view from the highest peak in the Nord Africa Toubkal 4167m. 
Toubkal and Mgoun Morocco twin peaks trek is a unique and special Atlas Trekking Morocco Adventure.  
Twin Peaks Morocco Highlights:
Explore the exotic Marrakech, Ouzoud Waterfalls and Imi n ifri natural bridge.

Charming and starkly beautiful Bougamez `Happy` Valley.

Experience the friendliness and hospitality of the Berber people.

The challenge: to Achieve the Moroccan Twin Peaks of  Toubkal and Mgoun

Treks you might also like: