Toubkal Trek 2 Days
Express Toubkal Trek 2 Days
In This Challenging Toubkal trek 2 Days Climb, we ascent the highest peak in the Atlas Mountains and North Africa. This trekking starts and finishes in the vibrant city of Marrakech. The Trek begins in Imlil valley accompanied by one of our qualified and experienced mountain guides. Anybody in good physical condition can reach the top easily, so make sure you bring your camera the views from the peak are spectacular.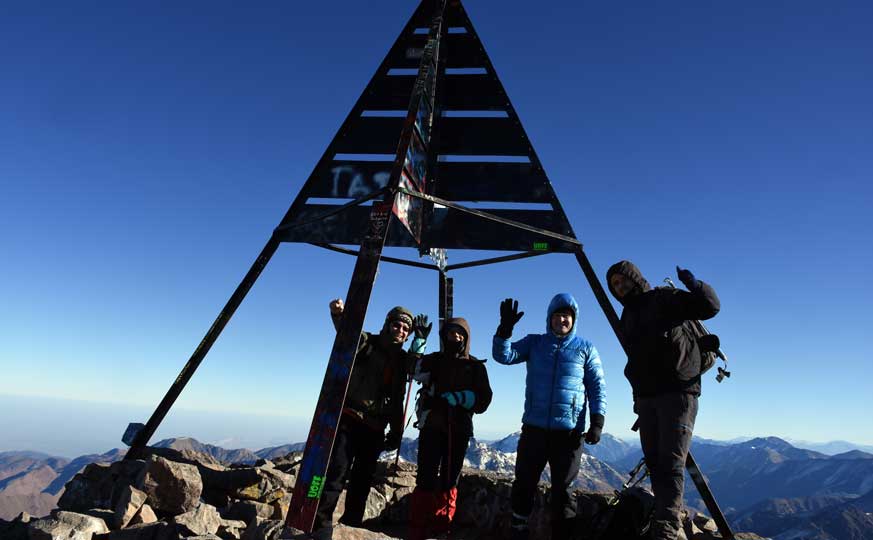 heading along the Mizane Valley first towards the village of Aremd, the largest village in the valley. Provides an interesting mix of traditional terraced farming trails that seem to be permanently gridlocked by goats and cattles. For generations the local Berber villagers have worked these lands producing corn, potatoes and walnuts from the harsh landscape. After that onto the shrine of Sidi Chamarouch, built on a moraine spur overlooking the valley floor. Continuing east and crossing the flood plain along mule tracks and up into the high rocky cliffs above the valley.
From Marrakech the Trekking Toubkal ascent can be Achieved only within 2 or 3 Days Trek.
Start and end in Marrakech

Jebel Toubkal – Ascend to the summit of the highest peak in North Africa

The Atlas Mountains – Hike among the stunning landscapes of the High Atlas

Easy to extend in Marrakech, Essaouira or the Sahara desert.
2 Days Trek Toubkal at a Glance:
Day1

:     Marrakech – Imlil(1750m) – Neltner Refuge(3207m)
Day2

:     Refuge (3207m) – Toubkal summit (4167m) – Imlil (1750m) – Marrakech
  Treks you might also like: