3 Days Toubkal Ascent Winter Trek
3 Days Toubkal Ascent Winter Trek
The snow-capped peaks of Morocco's High Atlas Mountains providing an impressive challenge adventure on a 3 days Toubkal ascent winter trek, (4167m) North Africa's highest peak. On a clear day we enjoy winter trek views from the Toubkal ascent across the Atlas range and over the Sahara Desert. En route trek we discover local villages and experience Berber hospitality.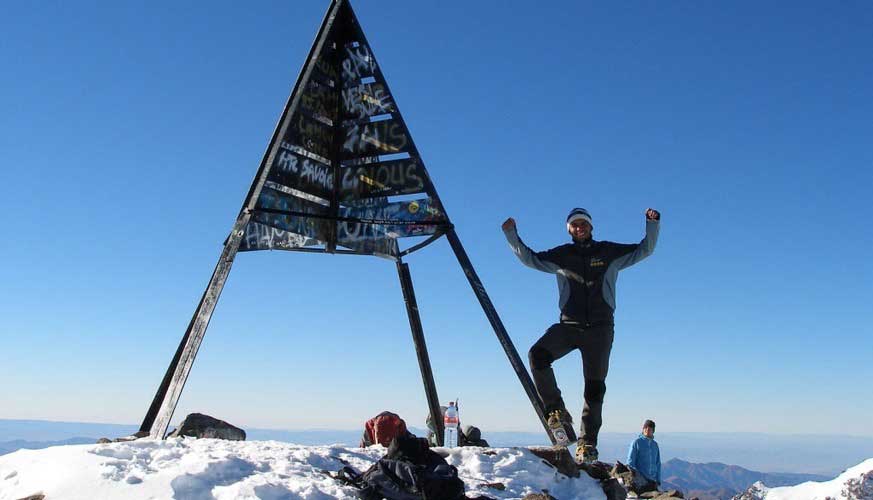 The Toubkal Region containing all the highest peaks is by far the most popular region for trekers.
Mt Toubkal is the highest peak in the Atlas Mountains and in North Africa. Situated 65 km south of the city of Marrakech and in the heart of Toubkal National Park. Bounded by the Tizi N'test pass to the West, and the Tizi N'tichka to the East.
Most of the trekking interest is concentrate in or around the central line of these peaks. Starting from Ouanoukrim and bearing onwards, North-Easterly to Annrhemes we finish with Angour.
Toubkal Ascent 3 Days Highlights:
Start and end in Marrakech.

Winter Ascent Climb Challenge Experience.

Jebel Toubkal – Ascend to the summit of the highest peak in North Africa.

Spectacular views across the High Atlas from Mount Toubkal summit.

Easy to extend in Marrakech, Essaouira or the Sahara desert.
Day 1

:     Marrakech – Imlil(1750m) – Neltner Refuge(3207m)
Day 2

:    Trek to summit of Jebel Toubkal (4167m) – Return to Neltner (3207m)
Day 3

:    Neltner (3207m) – Imlil (1750m) – Drive to Marrakech
Similar Winter Treks and Hikes: