Toubkal National Park Trek – 9 Days
Toubkal National Park Trek, Valleys and Ifni lake Circle – 9 Days
In the heart of the Atlas Mountains, and at the center of the Toubkal National Park trek. Toubkal summit 4167m rise as the highest peak in North Africa and known as the crowning glory of Morocco. The true beauty of  mt Toubkal trek, is that the mountain can be climbed by anyone of reasonable fitness due to the straightforward climb to the summit.
Mt Toubkal trek is for all seasons and abilities!. Any reasonably fit and prepared person can reach the summit of this non-technical peak. The reward is an unrivaled panorama of the High Atlas Mountains.
Variety of beautiful landscapes and natural Ifni lake that region is famous with. Then the opportunity to spend time with the charming Berber people who make their homes in the high valleys of the Atlas Mountains.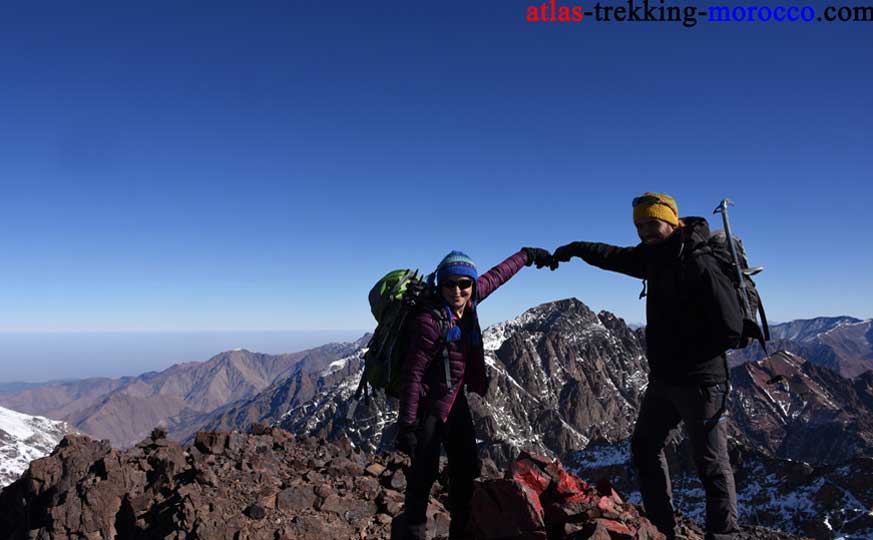 This Hike in Morocco High Atlas begin in Okaimeden the ski station resort for winter time. Includes a night by the spectacular natural lake of Ifni in addition to local Berber summer sheepfolds.
Hike through juniper forests, past Berber villages and over passes climbing steadily to a refuge at Neltner. From Neltner we set out to nearby peaks including an attempt on Mount Toubkal. A rewarding climb with views of the whole Toubkal National park and Atlas Mountains chain.
During the summer, the ascent of Toubkal is nothing more than a trek, steep in places, but otherwise straightforward and non-technical. In the winter, when the mountain is usually snow covered, crampons and a single ice-axe are required and previous experience of winter mountaineering.
Toubkal National Park Trek Highlights:
A week trekking in the highest and most scenic mountain range in North Africa.

Ascent of Jebel Toubkal – Climb to the top of North Africa's highest peak (4167m)

Experience the friendliness and hospitality of the Berber people.

Taste delicious local cuisine.

A superb adventurous trekking and exotic Marrakech.
Trekking Toubkal National Park at a Glance:
Day 1:

    Fly  to  Marrakech
Day 2:

     Marrakech   –   Oukaimeden(2600m)   –  Tachdirt(2500m).
Day 3:

    Tachdirt (2500m)  –  Likemt pass (3550m)  –  Azib n Likemt (2600m)
Day 4:

     Azib n Likemt (2600m)  –  Tizi n Ourayn (3100m) –  Amssouzart (1740m)
Day 5:

    Amssouzart  (1740m)  –  Ifni Lake (2300m)  
Day 6:

    Ifni Lake (2300m)  –  Ouanoumss pass (3650m)  –  Neltner refuge (3207m)
Day 7:

    Ascension of Toubkal (4167 m)  –   return to Neltner
Day 8:

    Neltner (3207m)  –  Imlil (1750m)  –  Drive to Marrakech
Day 9: 

  Marrakech Airport
Toubkal Trekking you might also like: