Trekking Morocco Long Traverse – 22 Days
Trekking Morocco Atlas Mountains Long Traverse

22 Days
This trekking Morocco long traverse of the high Atlas Mountains is a stunning trek and a unique experience From Atlas Trekking Morocco to our travelers to discover the deep Morocco.
Our Morocco long traverse Trekking Begins in the picturesque of Ait Bouguemez Valley. Leads south-westwards through the impressive Atlas range, which includes North Africa's highest peaks. We visit the fortified villages of the friendly Berbers. And climb on good trails through remote and often uninhabited valleys to reach high and scenic camping places. We have included the option of ascending two of the Atlas high peaks, Mgoun (4071m) and Jebel Toubkal (4167m). Rich in cultural interest and wildlife, this is recognized to be one of the finest mountain long traverse walks in the world.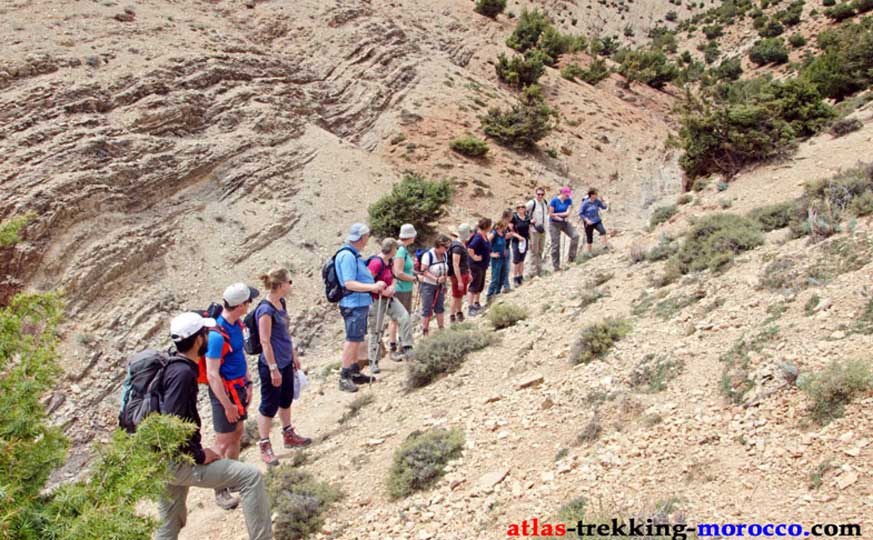 On our return to Marrakech, we have time to explore the old Arab quarter. Famous for its souks (markets) and for the quality of its handicrafts. Moreover the unique experience will not be complete without a visit to the spectacular Acts that take place in the Jamaa El Fana square. This is the ultimate Morocco trekking long traverse of the Atlas Mountains.
Trekking Morocco Long Traverse Highlights:
One of the Most Spectacular Mountain Walks in the World!

Explore the exotic Marrakech, Ouzoud Waterfalls and Mountain lakes.

Charming and starkly beautiful Bouguemez `Happy` Valley.

Experience the friendliness and hospitality of the Berber people.

The challenge: to reach the summits of Mgoun and Toubkal.

An unforgettable High Atlas trekking traverse in Morocco

Look on HOLIDAY ITENRARY above for Day bay Day Details.
Trekking you might also like: