Ait Bouguemez Valley Trek – 8 Days
Spectacular Ait Bouguemez Valley Trek – 8 Days
In Bouguemez valley trek we Travel from Marrakech to the Central high atlas for a lovely walking couple of days. On the way up firstly you will be visiting the natural bridge of Imi-n'ifri. After that into the Ait boulli berber valley prior to get lastly to Ait Bougmez Valley for a first night.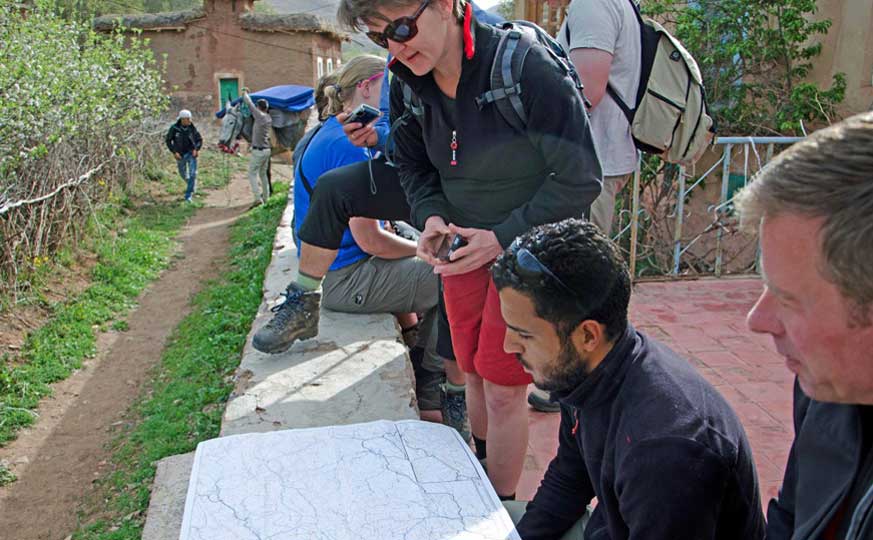 6 days trekking to explore the Berber villages of the Happy Valley, climb up the second highest peak in Morocco and Nord Africa the Mgoun summit 4071m. And the best of what the central high atlas can offer.
On the way back through a different road, you be visiting the highest waterfalls in Morocco "Ouzoud" where you will have lunch prior to travel back to Marrakech.
Bouguemez Valley Trek Highlights:
Explore the exotic Marrakech, Ouzoud Waterfalls and Imi n ifri natural bridge.

Charming and starkly beautiful Bouguemez valley Or  ' Happy Valley '.

Experience the friendliness and hospitality of the Berber people.

The challenge Trek to reach the summit of Mgoun 4071m high.
Ait Bouguemez Valley Trekking at a Glance:
Day 1:

    Fly  to  Marrakech  
Day 2:

     Marrakech  –  Ait Bouguemmez (1800m) –  Ikiss n Arouss (2500m).
Day 3:

     Ikiss n Arouss (

2500m) –  Aghouri pass (3450m)  –  Tarkadit Plateau (2900m)
Day 4: 

   Tarkeddit (2900m)  –  Mgoun summit (4071m)  –  Oulilimt (2600m)
Day 5:

     Oulilimt (2600m)   –   Aflafal  springs (2400m)
Day 6:

     Aflafal (2400m)  –  Tizi n Ait Imi (2905m)  – Bouguemmez valley (1800m)
Day 7:

     Bouguemmez  –  Ouzoud waterfalls  –  Marrakech
Day 8:

     The end of the happy valley and Mgoun trek
Tours you might also like: